Key Fact
Dr Harry Angelman first described three children with the syndrome in 1965.
History and Prevalence of Angelman Syndrome
It is important to remember that a person is always a person first; a diagnosis is secondary.
---
Prevalence
Angelman syndrome is a rare genetic disorder and at present the prevalence has been estimated to be between 1 in 12,000 and 1 in 24,000 people in the population.
History
Angelman syndrome is named after Dr Harry Angelman who first described three children with the syndrome in 1965. After working with the children he was inspired to write an article after seeing a painting in a museum in Verona, Italy entitled "A Boy with a Puppet". This painting gave him the idea of writing a paper titled "Puppet Children".
In his writing, Dr Angelman described the children as "Happy Puppet Children" because of their happy character and stiff jerky movements and this term was used widely until the late eighties. In 1982, two researchers (Williams and Frias) considered the term 'Happy Puppet' to be offensive so the name of the disorder was changed to 'Angelman syndrome'.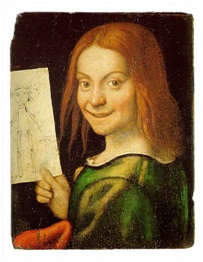 Ritratto di fanciullo con disegno Giovanni Francesco Caroto (1480-1555)
The painting that Dr Angelman saw which inspired him to write about the
'Puppet Children' he had worked with.